Qingdao Must-see Attractions
1 Zhanqiao Pier / 栈桥
As the symbol of Qingdao, Zhaoqiao Pier was built as a wharf in 1891. After being expanded and repaired twice in 1931 and 1985, it is now open for tourists. The pier is 440 metres long and 10 metres wide with giant granite supports and a two-storey distinctive Chinese style Pagoda, called
"
Huilan
"
, the return of waves. Along the shore is the beautiful Pier Park, which is a pleasant and quiet place for tourists to rest.
Useful Information
Address: 14 Taiping Road, Shinan District, Qingdao
Opening hours: Zhan Bridge: 24/7. Huilan Pavilion: 7h - 19h.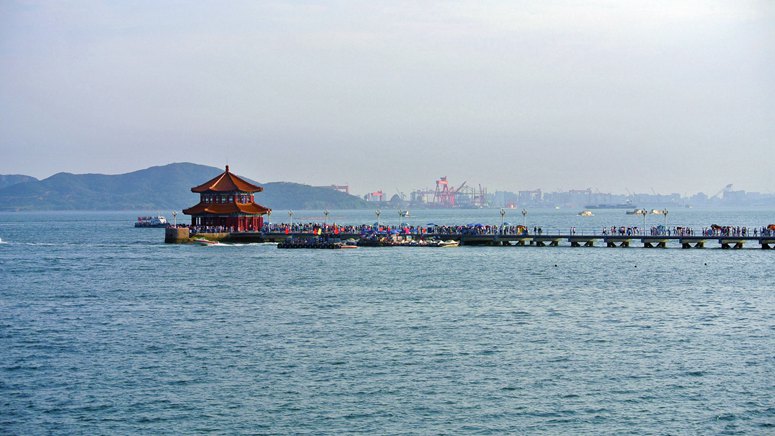 2 May 4th Square / 五四广场
Marked by the huge flaming sculpture called "Wind of May", the square is built to commemorate the May 4th Movement in 1919, when Chinese nationalism was revived by a popular student-led uprising. Connecting the Qingdao municipal government building and the east coast, it consists of a coastal area and two squares, which are called City Hall Square and Central Square. In the evening, the colourful lights and water fountain make the whole square even more attractive.
Useful Information
Address: Donghai Xi Lu, Shinan District, Qingdao
Opening hours: 24/7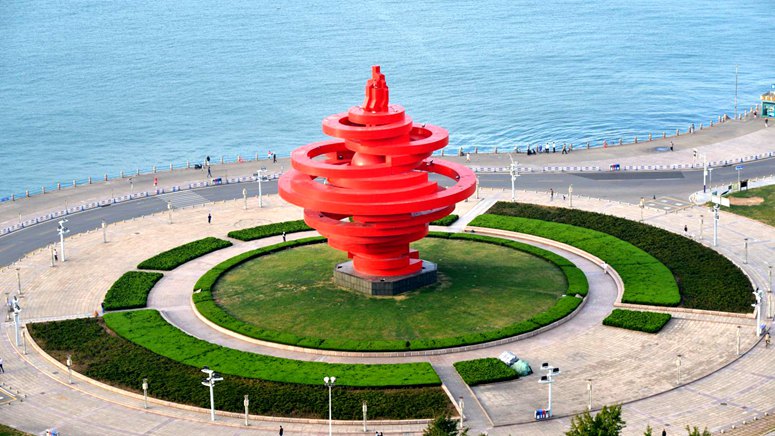 3 Badaguan Area / 八大关
Lying between Huiquan Cape and Taiping Cape, it was named
"
Badaguan
"
(Eight Great Passes) after the eight great passes of the Great Wall. The area was once occupied by Western countries, showing various architectural styles from 20 countries including Britain, Russia, Germany, France, and Denmark.
In spring, the peach flowers bloom on Shaoguan Road, during summertime, crepe-myrtles on Zhengyangguan Road. Maple leaves turn red in autumn, and cedars stay green even in winter. In every season, Badaguan has its unique sides.
Useful Information
Address: Shinan District, Qingdao
Opening hours: 8h - 18h
Tickets: Free, ticket needed for certain buildings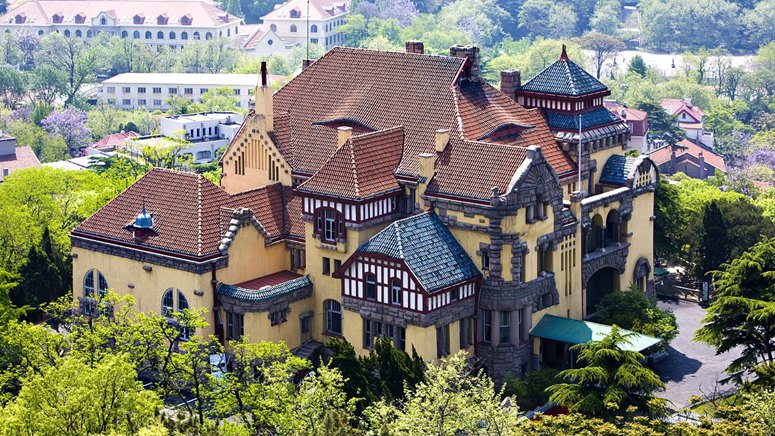 4 Laoshan Scenic Area / 崂山风景区
Named in the Tang Dynasty with the growth of Taoism, Laoshan is a household name for its vistas as well as the Taoist shrine. Laoshan Jufeng Peak, Liuqing River, Taiping Palace, Yangkou Beach and Nine Waters and Eighteen Pools are the main tourist spots. Local travel agencies offer tours which vary between the southern route that covers both the Jufeng Peak and Taiping Palace, the eastern route to Yangkou Beach that covers both Taiping Palace and Qipan Stone Area and the central route to Nine Waters and Eighteen Pools.
Useful Information
Address: Laoshan District, Qingdao
Opening hours: 7h - 17h
Tickets: 160 RMB